Warren Buffett's Homes
The significance of Warren Buffett's homes is that the plural is misleading. Warren Buffett has one main home (he still owns a vacation home in Laguna Beach, California).
| | |
| --- | --- |
| | One of the richest men in the world lives in a house that is not only surprisingly modest, but also the same one he has lived in since purchasing it in 1958 for the sum of $31,500 - an amount that would be equivalent to about $250,000 currently (though the value is significantly more). |
The numbers are definitely not what one would expect in a culture and society where the wealth is flashed about. There is a lesson to be learned from Warren Buffett's lack of extravagance. It is how Buffett has gained, kept, and grown his wealth.
Buffett did own another house, used as a vacation home, in Laguna Beach, California (and he still owns another one, to date). He sold the vacation property in 2005 for almost $6 million, after nine years of ownership. He had bought the home on a private cul-de-sac, in the Emerald Bay section of Laguna Beach for $1.05 million.

Because its location is rather secluded (Okay, you be the judge from the picture below), it is considered to be a wonderful retreat. Buffett has a preference for keeping things simple and modest, even in his former vacation home.

While he owns nice things and buys quality pieces, he is not to be found overbuying. In the list of the richest people in the world, Buffett lands on the list at number three for 2012. He has been listed as the richest man in the world multiple times. His money management skills have been emulated by many. He is admired for his business practices. His personal philosophies include being happy with what one has, giving as much as possible to those in need, and raising the taxation on the wealthy.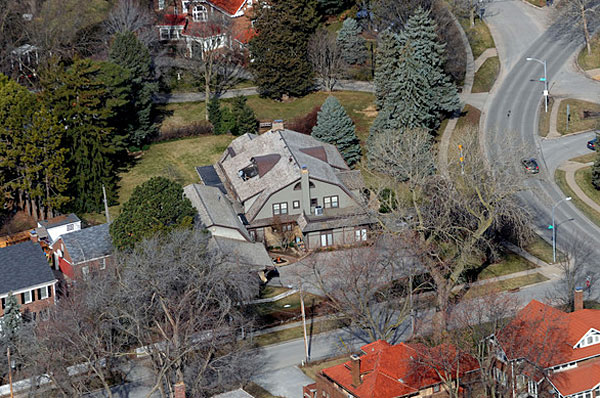 Buffett's current residence is valued at roughly $600,000 to $700,000. Since 1958, there have been upgrades and additions to the property. Buffett considers his house to be among his greatest purchases. The home is in the Happy Hollow neighborhood of Omaha, Nebraska. It was built in 1921, has 5 bedrooms and 2 ½ bathrooms. The 6234 square foot stucco home is just a mile away from Buffett's Berkshire Hathaway offices.

Most of his business has been conducted through the numerous partnerships that Buffett has established. Even with his wealth and fame, Buffett has remained content in Omaha, Nebraska, where he was born and raised.

His childhood home is nice, but it is not fancy. Similarly, his longtime residence is far from excessive. It is a part of an affluent neighborhood and lacks even the basic security one might expect for such a wealthy individual. Even his former vacation home in Laguna Beach is not part of an area full of wealthy celebrities, though it is an exclusive, gated community.

His involvement in philanthropic ventures sets Buffett apart. For one thing, he is an actor in The Secret Millionaires Club. It is a fitting job because the cartoon is used to instruct children on good financial management skills. Buffett is also committed to giving 99-percent of his wealth to charities. He is a close friend of Bill Gates and a trustee of Gates' charity, the Bill and Melinda Gates Foundation. The foundation focuses on education, healthcare, decreasing poverty, and increasing information technology.
In a world of materialistic ideals, Warren Buffett's homes, or rather lack of multiple homes, business practices, and personal philosophies, make him stand out from the majority of the wealthy members of today's society.