Bruce Willis Homes
Bruce Willis, born in Germany and a now a superstar actor, currently rents an apartment in "the Donald's" Trump Tower, in New York City, and at Trump Place. In Los Angeles, Willis owns property as well as a home in Malibu, California. A ranch in Montana belongs to Willis including a beach home on Parrot Cay in Turks and Caicos Islands, a private island resort.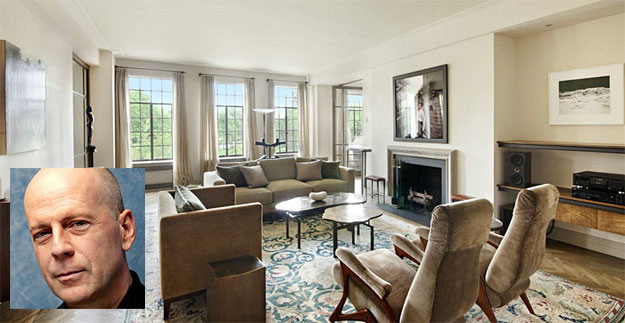 Bruce Willis Central Park West Apartment

It is a secluded location and provides privacy. Parrot Cay has become very popular with many celebrities on the Caribbean Sea. Multiple properties are owned by Willis in Sun Valley, Idaho. Willis also has a few properties in Ketchum, Idaho, and two homes in Beverly Hills.
NEW YORK
For $8.695 million, Willis now owns an apartment in Central Park West (pictured at top), built in 1930. He grabbed a great deal on this pre-war property. The apartment is the famous El Dorado building and has hosted many celebrities over the years including Alec Baldwin and U2 front man Bono. The property was bought from U2 bassist, Adam Clayton.
This home faces Central Park having views from three of the rooms. It includes a lavish master bedroom suite and is said to be an art deco gem. The kitchen has high-end appliances, slate countertops, custom cabinets, and terrazzo floors. Willis must be downsizing, since this home is only three bedrooms with four baths. It should be enough space for Willis and his wife Emma Heming, and his new baby Mabel. At one time, Willis lived with former wife Demi Moore in Central Park West.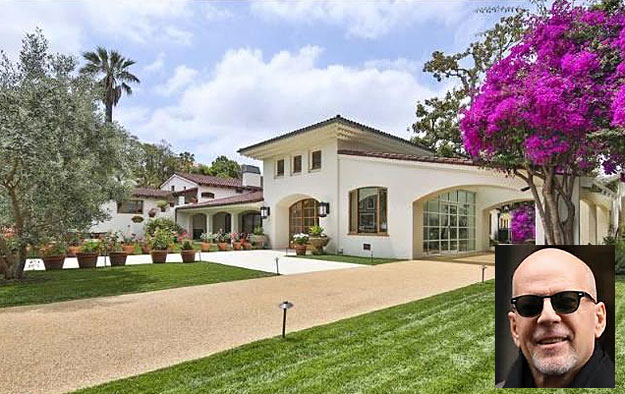 Bruce Willis Beverly Hills Home

BEVERLY HILLS
Willis has put up for sale another of his real estate holdings. This home has nominal aesthetics, but doesn't skimp on luxury. The arched door frames create depth and the exposed ceiling beams contribute to a classic hacienda setting. In 2004, Willis paid $9 million for his Beverly Hills home (pictured above) sitting on almost an acre of beautiful lawn and it is listed for $22 million. That's a 144 percent increase for the actor's spacious Spanish-style hacienda. Previous famous owners were Michael Jackson and Lucille Ball.
Southern California is a hot market in real estate and home values are increasing. Good for Willis. As for location, location, location, Willis's home at Benedict Canyon Drive with the fashionable 90210 zip code, is just a short distance from the Beverly Hills Hotel. Willis and Emma Heming did a lot of work on this 10,379 square foot house.
Having 11 bedrooms, 11 bathrooms, this home has a formal library, multiple fireplaces and with its large living spaces, opens up to a stunning inner courtyard with a fountain, and a spacious patio and pool. The huge center island in the kitchen has been updated with quality restaurant-style appliances. A pool and tennis court are located outside the grounds of this magnificent home.
Willis recently purchased a $4.6 million fixer-upper in Beverly Hills. The house has nine bathrooms, seven bedrooms, a swimming pool, a guesthouse, and tennis court.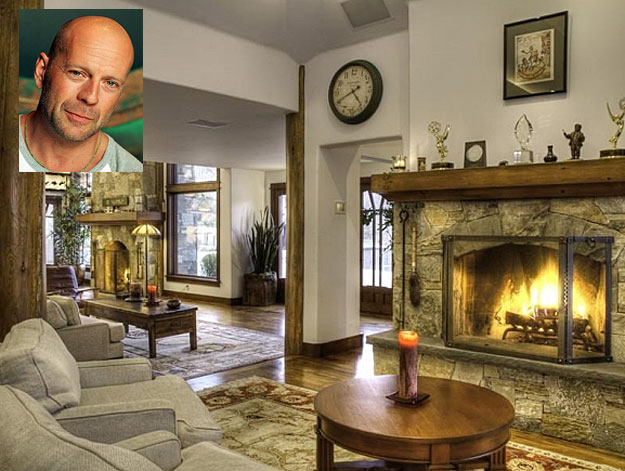 Bruce Willis Idaho Home
IDAHO HOMES
Idaho has a few properties owned by Bruce Willis, and he's been trying to sell those in recent years. Presently, Willis owns a lodge in Hailey, Idaho (pictured above), listed at $12 million, including a bar he once co-owned with Demi Moore, his former wife.
Willis's next adventure is to sell his home with 6 bedrooms and 6.5 baths where the large master bathroom includes a granite shower, dual sinks, and a jetted soaking tub. This home in Hailey, Idaho, is located on Flying Heart Lake, being very private surrounded by streams, ponds and woods. It is rightly located just minutes from hiking, biking, skiing, theater, and live music. The estate is listed for $15 million.