Matt Damon's Houses
Low-key Matt Damon, 41, met his wife, Argentinian beauty, Luciana Barroso, while she was bartending in Miami. With their blended family of four daughters, time is divided between their New York East Village apartment, a Miami Beach waterfront mansion, and the Los Angeles stylish Pacific Palisades community.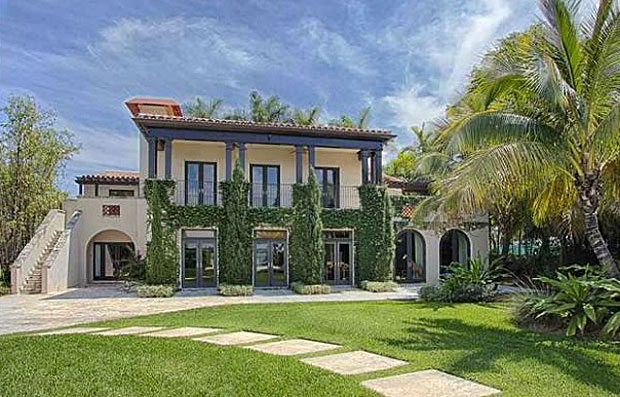 Matt Damon's Miami House
MIAMI
Purchased in 2005, successful writer, actor, and producer Matt Damon chills with his family in his $15 million Mediterranean mansion. The one-acre property is situated in the prestigious Maravilla Estates of Miami Beach. Matt purchased the vacant property next door to total 43,000 square feet with 170-feet of waterfront on beautiful Biscayne Bay.
The floor space of the house is 9,500 square feet. This swank mansion with its courtyard entrance includes a two-bedroom guest house in the middle. Matt and family enjoy a private dock, and unbroken views in all directions, for a never-ending summer at 6020 North Bay Road.
This rambling beach front home has 7 bedrooms, 10 full bathrooms, a home theater, and a large custom office. The spacious master suite has a high-class bedroom that includes an indoor spa bath with a private terrace. And, it has several roof terraces for seeing the spectacular views. A large patio overlooks the gardens, the small rock garden waterfall, and koi ponds. It boasts a Roman-style swimming pool, and the outside beauty encompasses the entire house.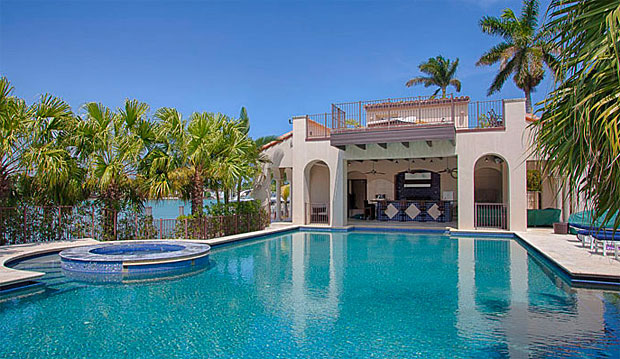 Damon's Miami Home Pool
A personal fitness center, an office area, and sunlight beaming in from the floor to 35-foot high ceiling windows are comforts of this magnificent home. Multiple fireplaces enhance this stunning home having hardwood floors and marble.
This property was listed for sale with Matt and family moving on and the actor hoped to make around $5 million on the sale. Matt's 12,705-square foot waterfront home could be purchased for a scant $20 million.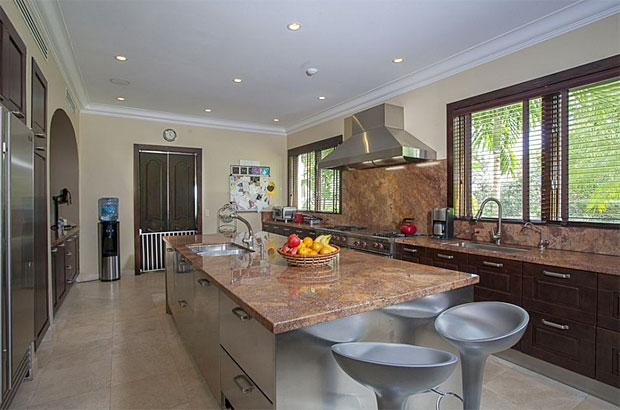 Damon's Kitchen
Matt's fun neighbor is Barry Gibb of the Bee-Gees. This is a sought-after villa once owned by Maurice Gibb, deceased brother of the Bee Gees singing group. Other neighbors include singers Shakira , Jennifer Lopez, Ricky Martin and Billy Joel. Calvin Kline, fashion designer, lives in the neighborhood as well.
NEW YORK
In April 2010, Matt purchased a pre-war luxury penthouse apartment in Manhattan, New York. It was located in the middle of the Upper West Side at 535 West End Avenue. The apartment was 6-bedrooms, having 6.5 bathrooms being a full-floor condo with 6637 square feet. Having great views of the city and its sparkling lights, the purchase price was $20 million.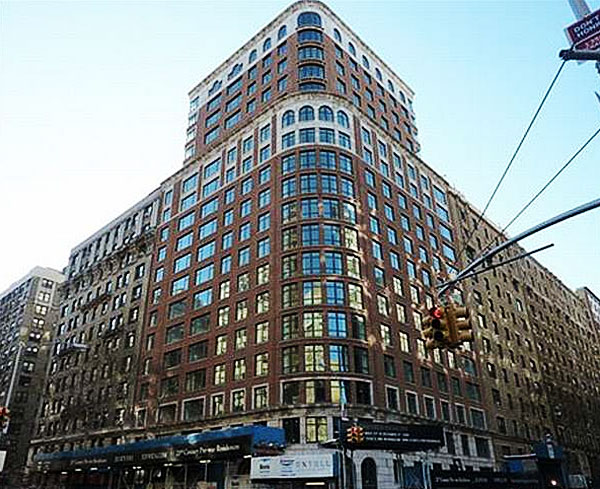 Damon's New York Apartment - 3rd down from the top
Matt sold for an undisclosed amount this condominium during the summer of 2013. He stated this was a hard decision yet best for the family. The four daughters needed companions and they wanted more living space. Matt and family moved to the Palisades area of Los Angeles this time.
LOS ANGELES
Desiring to center their lives in the Los Angeles area, Matt and his family not long ago purchased a $15 million home in Pacific Palisades. Ben Affleck, Matt's pal, and wife Jennifer Garner, live on the same street. This house sits on 13,000 square feet, and is a three-story in this classy seaside town. It is of Spanish Colonial and modern California styles on a half-acre on a corner lot with lush and manicured landscaping.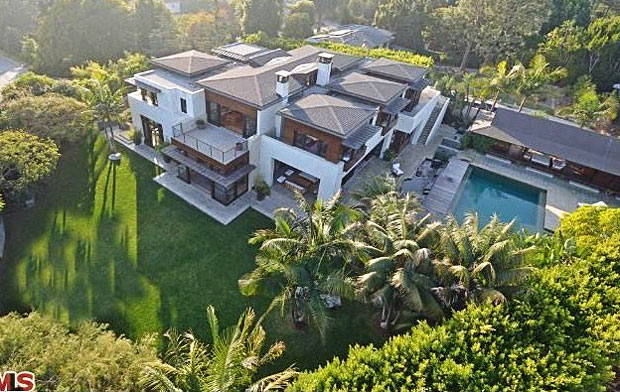 Matt Damon's Pacific Palisades Home
Being a Zen-inspired departure, this home is said to be the best in the Palisades area, with mahogany vaulted ceilings, an open floor plan, and walls of glass that seem to vanish. The living space is connected by an open atrium over the three levels.
Having a floating staircase, there are 8 bathrooms, 6 bedrooms, a huge living room, dining room, media theater, and kitchen with all the amenities, and a gorgeous swimming pool.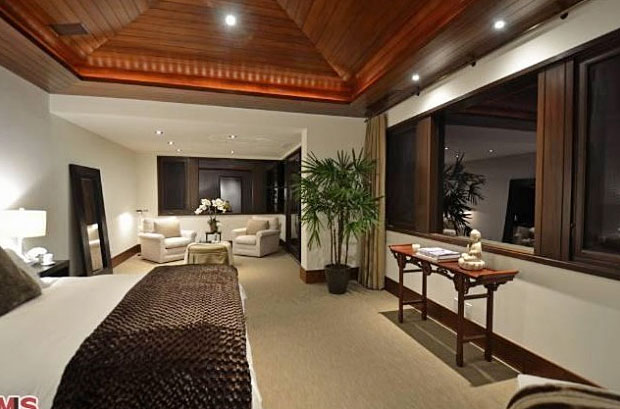 Damon's Bedroom
Furthermore, the home includes a sizeable office space, a large private gym, rooms for housekeepers, and a 5-car garage.