Tom Cruise's Homes
Tom Cruise and Katie Holmes have more than custody to argue about. They have many homes in various areas of the world, and anyone would feel blessed to live in one of these gorgeous estates.
| | |
| --- | --- |
| Cruise's most well-known homes are the ones he has purchased in California. One is located on Calle Vista Drive in Beverly Hills, and he and Katie Holmes bought this house about six months after they were married in Italy. | Tom Cruise Mansion Beverly Hills, CA |
It boasts an immense 10,000+ square feet, with a total of seven bedrooms and - count them - nine bathrooms. This house is traditional in style, and was built in 1937. It's surrounded by over an acre of land that includes a pool and a tennis court. Cruise had a housewarming party after the purchase of this home, and over 250 guests were in attendance, including Toby Maguire, Brooke Shields and Jennifer Lopez.
Cruise also owns an LA house, a smaller structure on Torreyson Drive. He purchased the house in 2005 for almost ten million dollars. It is situated above the luxurious Hollywood Hills. With three bedrooms and four baths, it was the setting for Cruise and Holmes' daughter Suri's very first birthday party.
Cruise has a home close to that of Oprah Winfrey, located in Montecito, California, too. With nearly 10,000 square feet and six and a half bathrooms, it has plenty of room to wander. It's said that this may be the house that Katie Holmes and daughter Suri may call home. Cruise purchased the land from Rob Lowe for three and a half million dollars. It's an elegant home, but not as much when compared to their Beverly Hills mansion.
Cruise and Holmes also have a residence in Greenwich Village, which they used when they were filming or relaxing in New York City. It cost over 15 million dollars in 2009. It seems small when you compare it to their mansions, but it's considered sizable in Manhattan. The penthouse may be Tom's after the divorce, since Katie stays at another location in the same borough, lately.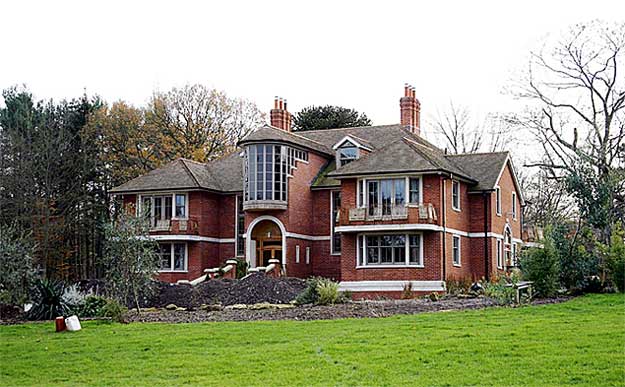 Tom Cruise Home Sussex, England
Everyone needs to escape now and then, and one of Cruise's getaway homes is in Telluride, Colorado. This is a town that sees celebrities on a regular basis, since many keep homes there. Their mansion in the Rockies has nine bedrooms, and Cruise bought this house before he married Nicole Kidman.
Cruise and Holmes own a house located in Sussex, England, and it's located near the U.K. headquarters of the Church of Scientology. It is reported to be worth about four and a half million dollars, and those who have seen it in person sometimes call it an ugly mansion, made from brick. It is believed that Cruise bought the house with the advice of his former best man, David Miscavige, who is also the leader of the Church of Scientology.
The Cruise/Holmes couple reached out globally again to purchase a mansion on the shore of Lake Como. It used to be owned by George Clooney. It wasn't much to look at when Cruise bought it for almost seven million dollars, but it underwent restorations starting in 2007, to make it fit for luxurious living.
Update: Tom Cruise and Katie Holmes signed a divorce settlement on July 9, 2012.