Jim Carrey's Homes
Jim Carrey, famous Hollywood actor and comedian, owns and resides in a beautiful west Los Angeles, California mansion. Jim Carrey's estate is located at the foothills of the Santa Monica Mountains. His estate is placed on North Tigertail road and he lives in a neighborhood that is called Brentwood. Brentwood is the wealthiest neighborhood in Los Angeles. I am sure you can see why Jim chose this highly exclusive location.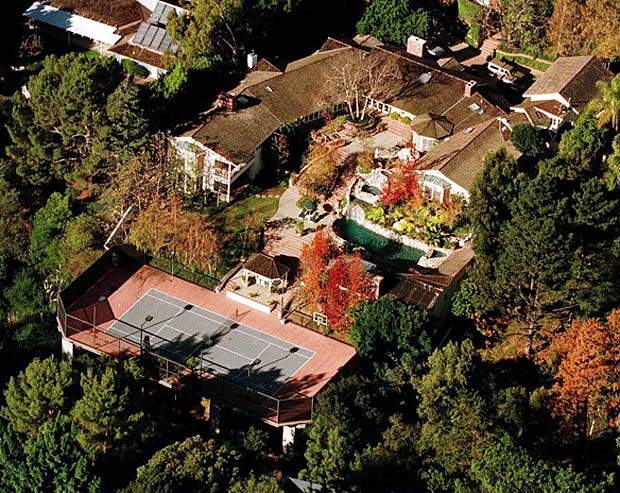 Jim Carrey's Brentwood, California Home
The evenly spread estate has a vast U shaped layout. The estate appears quite large in size, most likely due to the shape of mansion. Occupying the outside of this property is a full sized tennis court and a swimming pool. The outside property houses a small, cozy pool house or guest house. The guest house resides, conveniently, in front of the tennis court, next to the swimming area.
Carrey's entire lot is surrounded by a vast amount of trees. It gives the estate a dense forest appearance and feel. It is obvious that Carrey likes the beauty of nature surrounding him. The lush trees block the noise from the streets and helps contain privacy with neighbors that are around his property.
A bird's view of the mansion, allows you to see the enormous tree in the front of his estate. The tree is so large it covers the view to his neighbors mansion, almost completely. Being a celebrity, one could understand why he would like the gigantic tree there. It's a beautiful, natural divider from his neighbor's property, which appears to be built a little too close.
Jim Carrey also owns a seven-thousand square foot duplex penthouse, which is located in Manhattan, New York. This upscale apartment cost Carrey $13.65 million. Not too shabby for the location, size and posh appearance of this bachelor pad. This penthouse consists of six bedrooms, six full bathrooms and four half bathrooms, beautifully laid out, among six floors. The large estate was built in 1824 and has been completely renovated to look very modern and polished.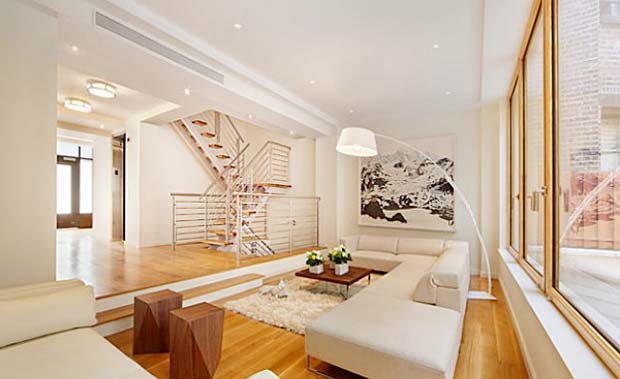 Jim Carrey's Penthouse

The garden level of Carrey 's Manhattan abode has a huge, fully equipped and customized, chef's kitchen. The dream kitchen lead's to Carrey 's private outdoor garden. The vast windowed wall gives a person an outdoor feeling, without having to endure harsh elements of weather. Surrounding the garden is a huge privacy fence, most appealing, for a celebrity to enjoy the comfort and seclusion every home should provide. A large private elevator brings us to the first floor of Jim's captivating, open living room area. Carrey 's interior decor and furnishings, are fabulously matched with the design of this home.
The grand master bedroom resides on the second floor of this estate and has two full sized, private bathrooms. Carrey 's luxurious, master suite also has a huge upper level, windowed dressing room. Jim's Manhattan home has a large parlor, kitchen, and family room on the fifth floor.
The sixth floor holds a solarium, which is attached to two north and south facing terraces. On top of this exquisite penthouse, Jim can enjoy New York's world famous skyline views, from the comfort and privacy of his own home.