Christina Aguilera's Homes
Singer, songwriter, actor, dancer, record producer, television personality, and judge on The Voice, the Ecuadorian American beauty, Christina Aguilera, born December 12, 1980, is selling her Hollywood Hills home.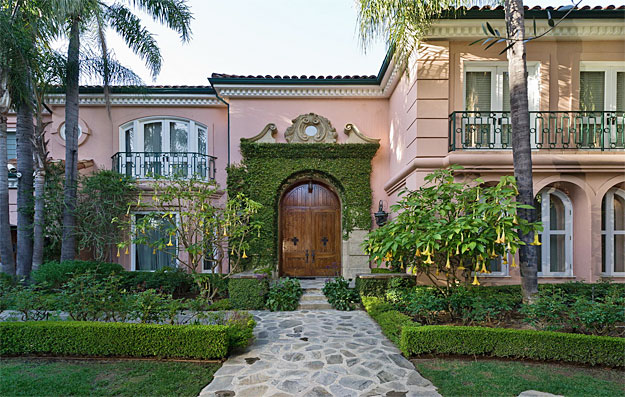 Christina Aguilera's Hollywood Hills Home
HOLLYWOOD HILLS
Christina's real estate portfolio has not been a source of good luck for her. Aguilera's Mediterranean style Hollywood Hills pink stucco home is still on the market, taking two price cuts since it was originally listed at $7.995 million in April 2008. The mansion is located at 513 Doheny Road, Beverly Hills, California 90210.
Public records show Aguilera purchased the property in 2007 from Ozzy and Sharon Osbourne for $11.5 million, 23.3 percent below the asking price of $15 million. Selling the 10,000-square foot celebrity estate has been Christina's focus for the past few months, first being shown as an off-market property and then a pocket listing.
It was relisted in January 2010 and was listed at $5.995 million. The modern mid-century home was often referred to as her "bachelorette pad." With her divorce finalized, it wasn't too surprising to see Aguilera's Beverly Hills home finally hit the market. After all, this was the pricey pad the pop star and now ex-hubby music producer Jordan Bratman purchased together. From 2002 to 2005 the kitchen and breakfast area were the focal point on the set of the MTV reality show The Osbournes before becoming Aguilera's home.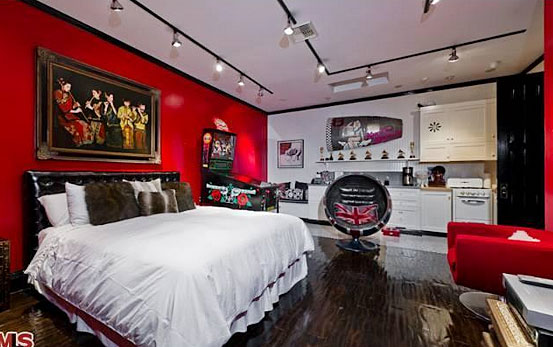 The decorating period is Gothic, burlesque, Hollywood Regency and chinoiserie (17th European French term "Chinese-esque"). The elements are juxtaposed with modern flourishes such as graffiti artwork, Japanese anime (Japanese animated cartoon style), and kaleidoscopic rugs. It is a true Christina diverse mix of styles and she wanted every space to have its own personality.
Aguilera's Beverly Hills mansion is a 6-bedroom, 9-bathroom home situated on a gated, 0.64-acre lot with high ceilings, tons of light, and an atmosphere between creativity and elegance. Regardless of décor preferences, the home is a unique piece of Beverly Hills real estate.
A gym, game room with a pink pool table, gift-wrapping area, movie room, personal beauty salon, and guesthouse with a recording studio are luxuries for the rich and famous Christina Aguilera.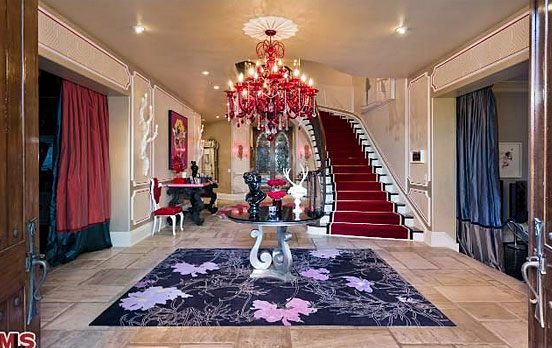 Outside there is a Bali-inspired cabana for relaxing by the pool, a cushy spot for entertaining poolside, with a water slide with cave, brick patio, fire pit, and barbeque area.
In addition, there are the expected amenities like a gourmet traditional kitchen with a little bit of whimsy having bright red chairs and funky pendent lights at the eating bar, a formal ornate dining room, and sweeping staircase with red carpet. The Grammy-winner's living room naturally has a grand piano. Plus, her office has a fireplace.
The master suite will make any homeowner drool, too. Not only does it feature a raised platform for a massive bed, but includes a fireplace behind the freestanding bathtub and Lulu Guinness rug, lounge area, and his-and-her baths with his-and-her walk-in closets to match.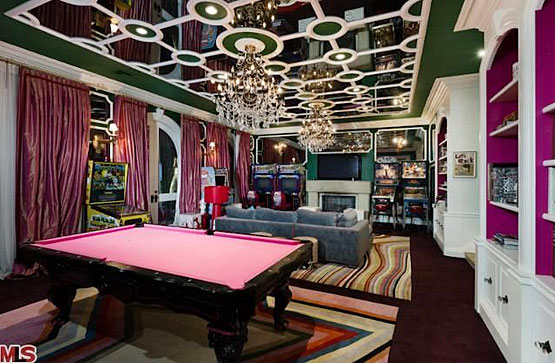 In the nursery for son Max, there's a gigantic crescent moon next to a wall mural, but no trace of the former Disney star's Mickey Mouse Clubhouse days.
When Christina Aguilera redecorated her home, she went big with bold colors of bright green in the library to black and yellow in the kitchen, whimsical furnishings and dramatic glam.
What attracted the pop diva may not have appealed to most buyers. Aguilera's home stayed on the market for two years before "pending" showed up on the listing.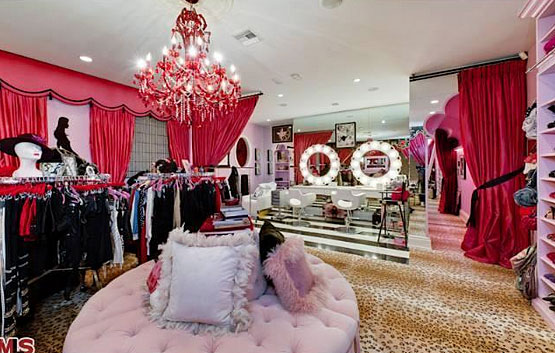 The sale of Christina Aguilera's Beverly Hills home closed on April 26, 2013 for $11.5 million.
SHERMAN OAKS
Multi-talented Christina Aguilera recently purchased her new $10 million mansion home near Charlie Sheen, and Paris Hilton in the Mulholland Estates in Sherman Oaks, California. The seller of the 11,107-square-foot Mediterranean mansion is Tom Gores, owner of the Detroit Pistons. Last year, he leased the house to newly divorced Adrienne Maloof star of The Real Housewife's of Beverly Hills for around $20,000 per month. Living next door are Charlie Sheen and Paris Hilton who will definitely be fun neighbors.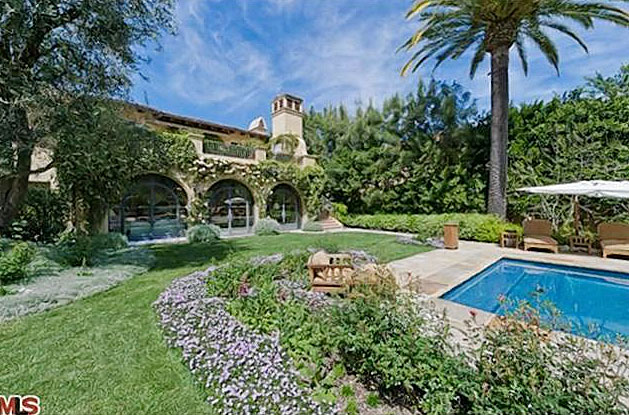 Christina Aguilera's Sherman Oaks Home
The estate is a slight downgrade compared to her previous home, but this home has a more sophisticated atmosphere with marble floors.
The gated community stately home comes with 6 bedrooms, 8 bathrooms, 6 fireplaces, and screening room. Outside are a saltwater (naturally chlorinated) pool, spa, bathhouse, and gazebo with an enclosed terrace with fireplace leading to massive patio spaces.
The second floor master suite has a fireplace, private office, marble bathroom, steam shower, soaking tub, even though it lacks the massive closet the diva had been accustomed to in her old house.
This large home includes a formal living room and dining room, a massive family room with an open-beam ceiling, wood paneled library, two bars, and a wine cellar.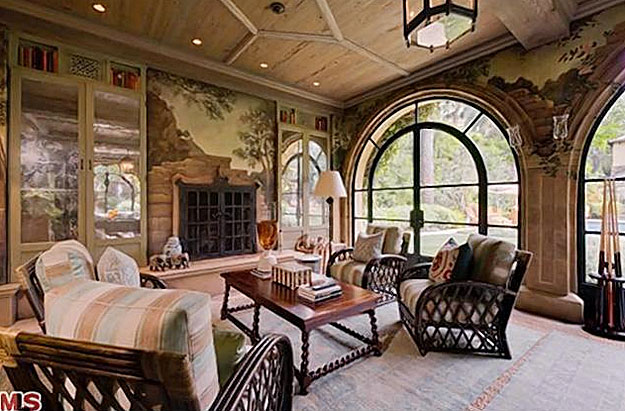 It has a striking high-tech chef's kitchen, a breakfast nook with a walk-in pantry, and a big playroom. The entire home is equipped with fortress-type security for privacy and for keeping tabloid photographers at a distance.
The home has one fewer bathroom than Christina's previous home, but it is still fit for a star.

Conclusion
Whether it's Hollywood Hills or Sherman Oaks, California, Christina Aguilera is used to buying and living in 5-star luxury properties.
External Links
More photos of the Doheny Road Mansion can be found here:
http://www.redfin.com/CA/Beverly-Hills/513-Doheny-Rd-90210/home/6822775
Photos of the Sherman Oaks, California home
http://www.zillowblog.com/2013-04-15/report-christina-aguilera-buys-near-charlie-sheen-for-10-million/