Charlie Sheen's Homes
From his hit TV sitcoms such as Two and a Half Men or more recently Anger Management, Charlie Sheen may not seem like a real estate mogul, but he is (of sorts). Sheen owns multiple multi-million dollar properties in Southern California.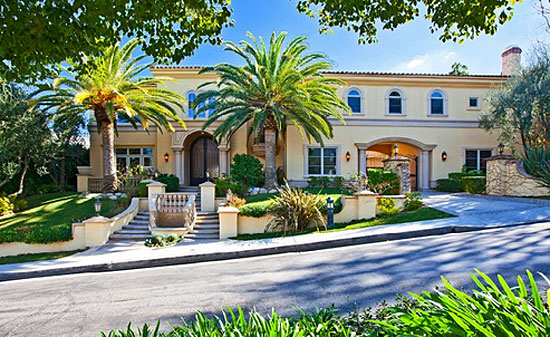 SHERMAN OAKS #1
Actor Charlie Sheen, born September 3, 1965, bought his first home (pictured above) in the Sherman Oaks opulent Mulholland Estate community back in 2006 for $7.495 million from Hollywood producer Mike Medavoy of Black Swan who paid $6 million. A Mediterranean-style property with 6 bedrooms and 8 bathrooms, sits on a half-acre lot. This home is the cream of the crop of this gated community.
The master spa-like suite has been renovated, custom walk-in closets have been added to include French doors to the balcony. The 9020-square-foot Mediterranean mansion features three fireplaces, sweeping staircase, a renovated chef's kitchen with Bosch high-end appliances, gym, media room, game room, a study, hardwood floors, a private screening room, gas heated terrace, three-car garage, and canyon views.
The estate includes a spa and pool outdoors, and is located in a gated community.
Sheen listed the house in 2011 for the same amount of $7.495 million and failed to find a buyer.
SHERMAN OAKS #2
In March of that year, during Sheen's very public meltdown, he spent the slightly lower sum of $6.9 million to buy another similar property just around the corner. This estate has 7924 square feet and has 6 bedrooms and 9 bathrooms. This is his second mansion in the famous Mulholland Estates community in Beverly Hills. This is the house where Charlie got sober so he nicknamed it Sober Valley Ranch.
Charlie Sheen has put this home (pictured above) for sale on the open market for $7.2 million.
SHERMAN OAKS #3
Sheen's third home is also in the gated Mulholland Estates community and purchased for $4.8 million. The Spanish-style villa has 5 bedrooms and 6 bathrooms, purchased in October 2012 from the billionaire owner of the Detroit Pistons, Tom Gores.
This home (pictured below) comes with a gourmet kitchen, theater, and roomy public rooms, most opening up into a landscaped yard. Other features include a professional outdoor kitchen, quality finishes, screening room, dining area, pool, spa and high-end appliances.
It's the perfect place for hosting for the party-loving Sheen but, then again, he has two other extravagant homes to choose from.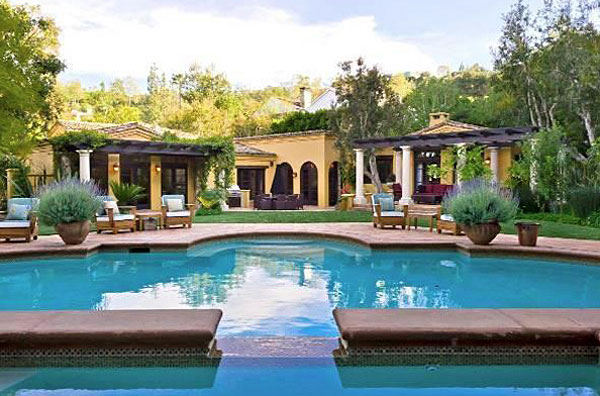 The three Beverly Hills homes are not the sole extent of Charlie's real estate empire. He also owns a house in Encino, California and a condominium in Malibu.
The star, who was formerly the highest paid actor on television earning $1.8 million per episode of Two and a Half Men, now shares his Mulholland Estates neighborhood with wealthy investors and celebrities such as Paris Hilton, Robbie Williams, Christina Aguilera, the rock star Slash, former Beach Boys leader Brian Wilson, and himself.
ENCINO
The 8500-square-foot, 1934 home has 7 bedrooms and 8 bathrooms. Sheen purchased the home from Kathy Sagal in 1997. This home is for sale listed at $6.95 million and sits on 5 acres of land.
Inside Charlie Sheen's $7 million home in Encino, California, it features several multipurpose rooms and impressive electronics.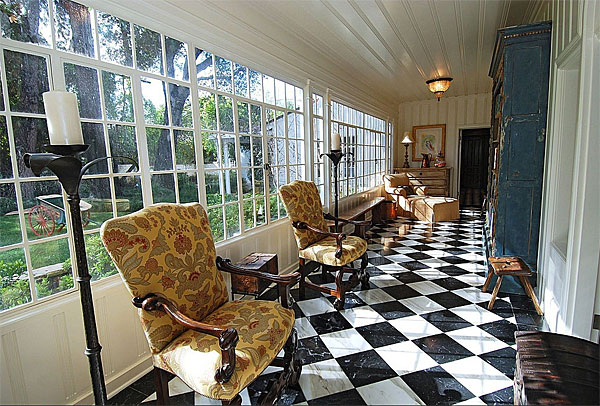 The home (pictured above) has multiple flat panels in several rooms, including a media room with a ceiling-mounted projector and drop-down screen that automatically lowers in front of the large plasma screen. In one bedroom, there is a flat panel and on-wall speakers mounted on the wall. Another smaller LCD is mounted in a bathroom.
Al Jolson, was the previous owner. The famous performer starred in the first talking movie in 1927, The Jazz Singer. Jolson and his wife, actress Ruby Keeler, did a massive remodeling project to have part of the house double as a studio for Jolson to rehearse. The home has loudspeakers mounted to the walls and a mirrored workout room.
MALIBU
On June 15, 1992, actor Charlie Sheen, married actress Denise Richards. They divorced in November 30, 2006, and Charlie put this home on the market again for $3.6 million this time. The Agoura Hills home overlooks Malibu Lake in California. The mansion was built in 1991, and Sheen spent 10 years redesigning it. Charlie and Denise now have moved on.
Sheen originally listed his 2.5-acre furnished home at $4.5 million. When it fell out of escrow, he took it off the market.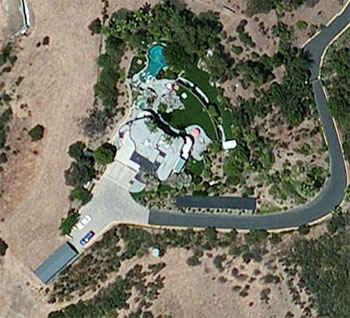 The 4-bedroom, 6000-square-foot home has a billiards room and media room with four TVs, poker room, and cigar room and full gym. The house also has a batting cage and an office. A guesthouse was turned into a space having the walls surrounded by salt-water aquariums.
A fire pole in the master suite descends from a closet to the front entrance. There is a rock spa and cave on the grounds and an infinity pool.
The house had been updated and has a kitchen with marble floors, a commercial stove, and granite countertops. The master suite has a spa tub, a steam shower and a walk-in closet.