Bill Gates' House
Known as the world's richest man, Bill Gates and his family live in the suburb of Medina, Washington, in an exquisite huge residence at the side of a hill overlooking Lake Washington. His house stretches for more than 66,000 square foot which is equivalent to 1.5 acres.
| | |
| --- | --- |
| Bill Gates' House | The house is extremely lavish with rooms that include more than seven bedrooms, six kitchens, 24 bathrooms and seven fireplaces. |
The residence has been designed in a very contemporary fashion in a Pacific lodge style. However, it has high-tech electronic systems almost everywhere throughout the house which make a great interior design. In fact, the house looks just like an 18th century mansion with its huge private library and dome reading room. The house is a beautiful collaboration of classic flavors, unique qualities and fine styling.
One of the most noteworthy elements of his home is the revolving work of art that has been integrated into the home for the latest and the most contemporary conveniences. The floors for example are pressure sensitive, which means that at any given time anyone who sets their foot on the floor can be analyzed by the security system and the security can know who has entered the residence by analyzing their footstep and weight.

As expected from one of the greatest geniuses in this modern era, the light system in the house has been fully automated. The lights would automatically turn on the moment you step in. The speakers and sound system inside the home is hidden beneath the wallpapers so that you may feel the music to fill the ambience and flow from one room to another. Completely portable touchpads have been integrated that would control everything from the lights, temperature and TV sets which would dim and brighten to fit the occasion or match the exterior lights.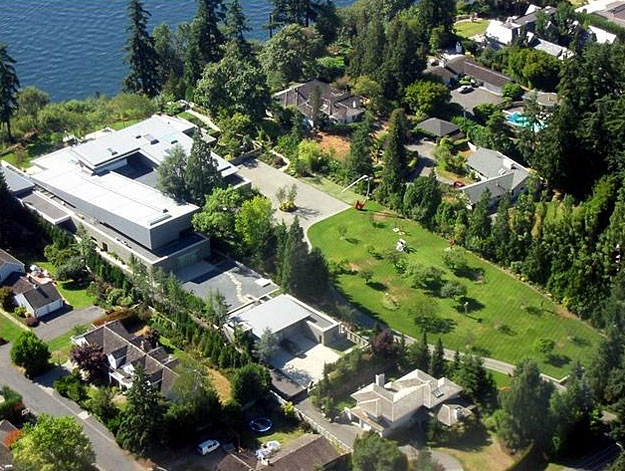 Aerial view of Bill Gates' Home

A microchip has been installed at the entrance so that it can survey the visitors and their details when they enter the residence. The chip sends signals throughout the home, so that people inside the house may know who has come. The microchip is also responsible for taking orders from the homeowner to change the room's temperature and other conditions.

Bill Gates' house also has a 60 foot massive swimming pool with an underwater music system. A glass has been installed under the water where swimmers can dive through and emerge through a terrace. The pool also has a locker room that has two bath and for showers.

As of 2009, the property taxes on the home were recorded to be USD 1.063 million with a total value of the property being $147.5 million.