Jon Bon Jovi's Homes
John Francis Bongiovi, Jr., born March 2, 1962, known as Jon Bon Jovi, is an American songwriter, singer, musician, record producer and actor, best known as the founder and lead singer of rock band Bon Jovi, formed in 1983.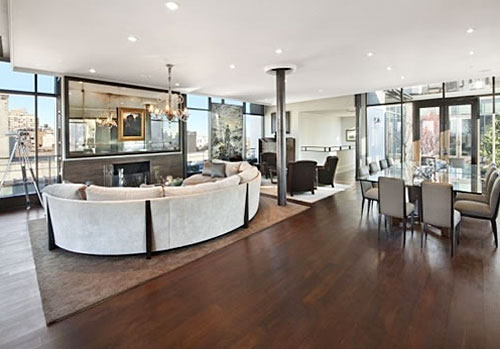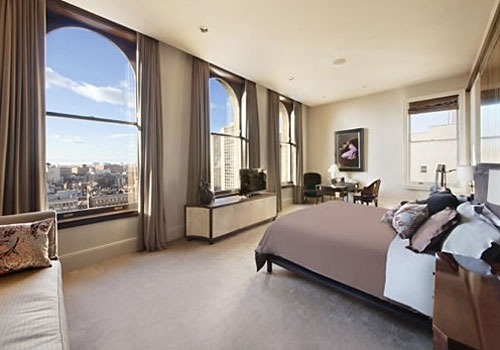 Both photos are from the Jon Bon Jovi SoHo, NY Penthouse
SOHO PENTHOUSE
SoHo is renowned for its remarkable architecture, wonderful shopping sites, and excellent restaurants.
The 51-year old rocker purchased his 7,452 square-foot duplex costing far less in 2007 for $24 million. This unique penthouse is for a discerning buyer who will appreciate the fine craftsmanship and modern conveniences. The Jon Bon Jovi house is currently on the block for $42 million. That's about 75-percent more than star paid for it. The down payment for this house is a cool $4.2 million and it comes completely furnished retaining all of the audio/visual equipment in this historic home. The apartment is on the top floor of the New Museum's 158 Mercer Street building.
Having many large windows, and spacious outdoor terraces, this home has the best of city-styled indoor and outdoor living. The elevator opens into the foyer on the first floor leading to a large great room. The SoHo Cast-Iron Historic District penthouse comes furnished with 5 bedrooms and 7 baths. This unbelievable duplex has 11-foot ceilings and three terraces totaling 3100 square feet. It lets in natural light from the massive floor-to-ceiling windows offering panoramic views of New York. With recessed lighting, two chef's kitchens-one on each floor, the first-floor master suite has a marble bath and large dressing room. Wood burning fireplaces are one of the many comforts of this lavish penthouse with hardwood floors and many closets.
NEW JERSEY
Bon Jovi's plush mansion is located at 722 Navesink River Road, Middletown Township, New Jersey right on the Navesink River. This location is 30 miles south of New York City. He lives off route 36 South by Sea Bright and Sandy Hook on the bay. It is the largest house on the bay offering a peaceful atmosphere and positive ambiance. Bon Jovi, his high school sweetheart wife, and four children live in this stately limestone French-inspired house. The ritzy mansion is Jon's second estate besides his SoHo apartment in New York. This tasteful chateau is located in central New Jersey, taking two years for Jon and his wife to build.
The 19,000 square-foot chateau was completed in 1999 for an undisclosed amount.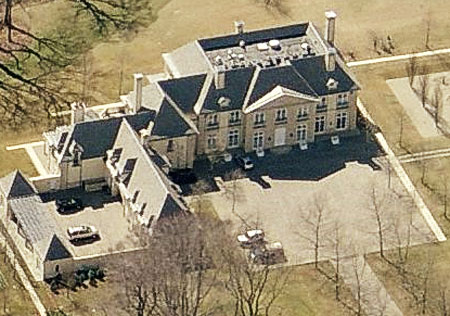 Aerial view of the Jon Bon Jovi New Jersey home
This massive estate sprawls over 16 acres of waterfront property having manicured lawns and gardens. Electronic gates protect Jon's elegant castle featuring a lavish interior and spectacular exterior. Security around the clock assures Jon's absolute safety and privacy. Pushing a button will raise a French tapestry revealing a built-in projection booth. With another push of a button, an 18- by 10-foot screen rises from the floor. In Bon Jovi's formal living room there is, with the flip of a switch, a large movie screen hidden in the floor, rising up to the ceiling. It then becomes the family's screening room.
Having many fireplaces, French doors, outside terraces, and a terrace off the master bedroom, this is a posh place for the rich and famous to hangout. A gallery wall shows framed pictures of his children growing up, and a spot is dedicated for all of Jon's music awards. Bon Jovi has a 230-year-old couch that has worn, fragile fabric that he seldom sits on.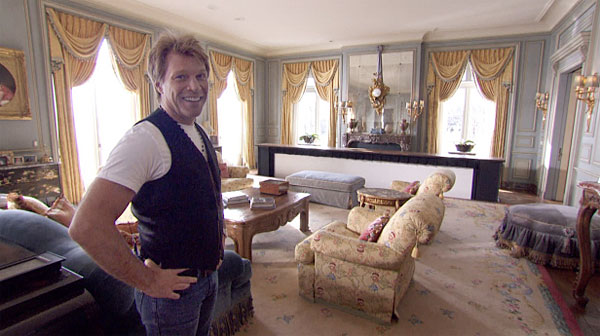 Interior of Bon Jovi home courtesy CBS News
Jon Bon Jovi's humble abode has 112-year-old horse stables converted into Jon's recording studio. Inside this state-of-the-art studio, Bon Jovi has produced every record since "Crush." He calls it his Graceland. Being a traditional New York Giants fan, Jon decorated his studio with his season-ticket seats from the old Giants stadium.
Bon Jovi likes to head over to his on-site English pub, The Shoe, established in 1999, when it's time to relax. Bon Jovi found the bar at a Paris flea market and likes to tend bar while his friends relax, play pool and pinball.