Britney Spears Homes
The wheeling and dealing pop princess Britney Spears, who ascended to stardom in 1999, has had multiple homes in California plus one in New York City.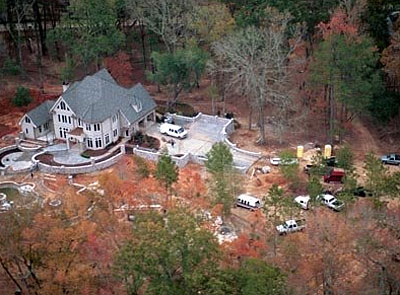 Britney Spears Kentwood, Louisiana Home
LOS ANGELES, CALIFORNIA
In 1999 at age 18, Britney purchased a custom-built home for her mother outside her hometown of Kentwood, Louisiana. When visiting her family, Britney stays at this brick home named "Serenity." No purchase price or details are available.
HOLLYWOOD HILLS, LOS ANGELES
Purchasing her star-worthy estate in 2001, the two-parcel property is at the end of a long drive in a gated community full of celebrities. Britney paid $2.975 million for this home selling it in 2003 for $3.850 million.
NEW YORK CITY
Three successful albums later in 2002, Britney opened a restaurant and purchased a penthouse in the storied Silk building previously owned by Keith Richards of Rolling Stones. This was short-lived and she listed it for $6 million, selling it for $4 million in 2006.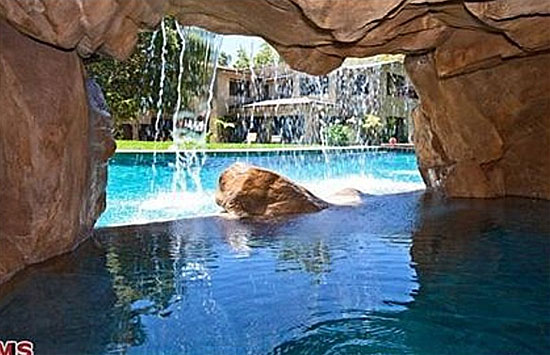 Britney Spears Malibu Home
MALIBU, CALIFORNIA
Britney married Kevin Federline in 2004, selling her house in Hollywood Hills. She purchased a 1.53-acre lot for $13.5 million. The 9130-square foot home is in a luxury gated community in the Serra Retreat neighborhood. The mansion was updated adding a recording studio and a dance and work-out studio. Two years and two kids later, Britney and Kevin divorced in late 2006. The house was on the market again for $13.5 million.
BEVERLY HILLS
This was a rough year for Britney divorcing Kevin Federline. In 2007, she was in child custody battles and was attempting a come-back tour, running in and out of rehab. On impulse, she picked up a fully-furnished Mediterranean villa off Mulholland Drive in Beverly Hills for $6.750 million. She tried to sell the mansion in 2008 and 2010, but didn't find a buyer. It's currently off the market. The Summit Circle estate has 5 bedrooms, a master suite with his/her baths, fireplace, and a maid's quarters. The backyard has a spa, pool, playing area for the kids, and a three-car garage.
A house with that kind of celebrity status was worth asking $4.235 million. But, with a price tag of $2.995 million, the property went to probate for sale. Turns out, however, that a bidding war wasn't necessary to offload the 15,930-square foot home, since an eager anonymous buyer placed an offer that was more than $1.25 million over the asking price.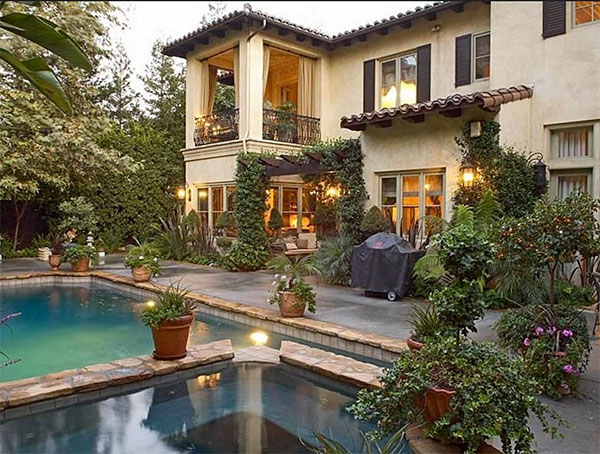 Britney Spears Summit Circle, Beverly Hills Home
CALABASAS, CALIFORNIA
After her emotional breakdown in late 2008, Britney leased a one-acre estate, Chateau Suenos, for almost two years during 2009. It is a large $8.9 million hilltop estate in the exclusive Calabasas area of Los Angeles.
She spent almost $700,000 in upgrades to prepare for her comeback.
HIDDEN HILLS, CALIFORNIA
It is said that Britney bought this architecturally beautiful Tudor-style house listed at one time for $18.9 million, reduced to $12.9 million. There is some question that she might be leasing this mansion for $25,000 each month. Her neighbors are Melissa Etheridge, Lisa Marie Presley, the Osbournes, and Jennifer Lopez.
Being fairly large having 9107 square feet, this luxurious house comes with 10 bedrooms and 13 bathrooms. There are two staff apartments; private guest quarters; an elegant and huge ballroom; wine cellar; game rooms; chef's kitchen with granite countertops and hardwood floors; multiple hot tubs; swimming pool with grotto; tennis court; beamed mahogany ceilings; fireplaces; beautiful entrance, gardens, and foyer. The house is very formal with classical wood beams, and lighting, using strong colors of the period. The mansion is very elegant with crystal chandeliers. The office is a bit on the masculine side yet with classic elegance.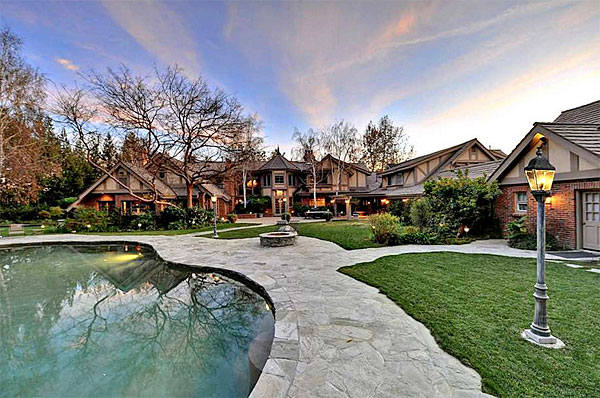 Britney Spears Hidden Hills, CA Home
Other features include a ballroom with its own bar and pool table; authentic wood paneling; marble floors; leaded windows; French doors; cathedral ceilings; and crystal wall sconces with shades.
The house is surrounded by mature trees, having genuine curb appeal. A large sunken tennis court, a free form pond surrounded by palm trees, and flowers and bushes are additional outdoor charms. Plus, there is an outdoor spa in a cave. The attraction to this area is that it is very private and secluded, having its own community supermarkets, Starbucks, and restaurants, away from Paparazzi.
THOUSAND OAKS, CALIFORNIA
The Mediterranean-style home about 40 miles from downtown Los Angeles, is in the exclusive gated community of Sherwood Country Club, built in 2010. It spans 8456 square feet of beautiful living space, purchased in 2012.
This home has 5 bedrooms, 7 bathrooms, with plenty of space for Britney's two young boys and fiancé Jason Trawick. Stunning features are an infinity pool, home theater, library and a wine room, luxury and privacy, These digs have panoramic views of the golf course, and it has an outdoor kitchen and cabana with views of the Santa Monica mountains.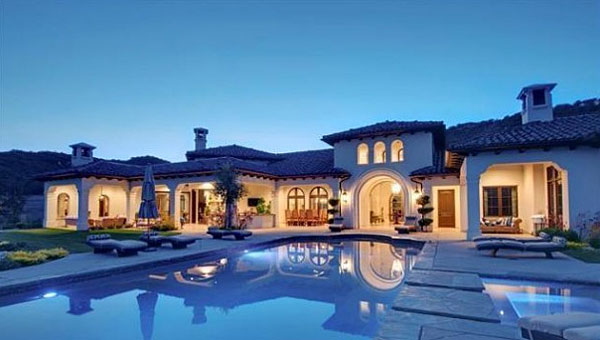 Britney Spears Thousand Oaks, CA House
The first two floors offer old country charm with stylish wood structures throughout. The gourmet kitchen comes with upscale amenities, stainless steel appliances, and granite countertops. The living and family rooms are large with a wood paneled library.
This property was listed at $8.5 million in August 2012, and the final purchase price is unavailable, since realtors try to keep the purchase price secret for celebs.