Oprah Winfrey's House
She made you laugh, she made you cry; she made your heartache as a forgotten lullaby. With the closing stages of Oprah's immaculately successful television series, it would be fun to take a look at where this media mogul resides.
| | |
| --- | --- |
| More specifically, where has this sugar mama been residing since she waved goodbye to those television screens. | Oprah Winfrey's California House |
Well, to start with, Oprah has a couple residences, but her California abode is beyond comparison, when it comes to the Montecito California home called the as "The Promised Land".
The house was bought with a whopping $52 million in 2001 and still remains to be a favorite residence after the television series. The 'promised land' stretches itself to an area of 23000 square feet and its estimated value as of 2011 is $100 million. Oprah spends most of her time unwinding in this home as this 42 acre estate has an amazing ocean and mountain view.
This property as told by Oprah was first spotted when she was in a photo shoot at a nearby location. The former owner of the house was a Southern California industrialist Robert Veloz with his wife who lived in the house since it was built a year ago. The Velozes had bought the property for $15 million in 1998, after the death of its previous owner Eloise Bacon, who lived for 100 years.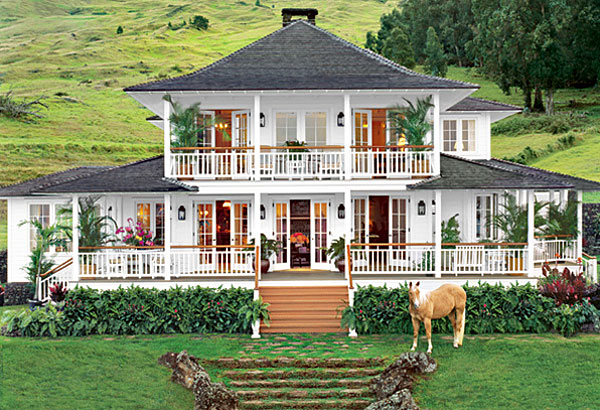 Oprah's Hawaiian Home

Oprah claims that there is not a single change that the designers made without her taking a look at it. As they call her a perfectionist, Oprah needs to witness every single piece of fabric, every doorknob, every trim and utensil for its color and design. She also monitored the grout's color that had to go in between the stone of the house.

Oprah's garden teahouse exhibits a large and beautiful hybridized rose she had fashioned in honor of the 25 African-American women who were honored at her Legends Ball. The "Legends rose" as she calls, is the oversized bloomed red flower. The roses are so strong and vibrant, that you only need a few petals to make a bouquet.

Winfrey also owns a beautiful apartment in Chicago, a big house in New Jersey, an estate in Florida, a ski house in Colorado, a house in Douglasville, Georgia, and land on Maui, Hawaii and Antigua. However, currently she lives on "The Promised Land" where she has 14 bathrooms and 10 exquisite fireplaces.