Donald Trump's House
The top American business magnet, a successful television personality and an accomplished author - Donald Trump has done it all. Basically a real estate tycoon, he is also the chairman and chief executive of The Trump Organization.
| | |
| --- | --- |
| Donald Trump's House | Donald is also the founder of Trump Entertainment Resorts which operates countless hotels and casinos worldwide. |
His extravagant lifestyle and an outspoken personality have made him a celebrity for years and the lavishness can also be seen when he bought the much gossiped Maison de L'Amitie.
Maison de L'Amitie was bought by Donald Trump in 2004 from a bankruptcy auction for an amount of $41 million. The house belonged to a Russian fertilizer billionaire who was listed as number 59 on the Forbes list of the world's richest people.

Trump decided to renovate the house and bring a bit of elegance and extravagance with a budget of $25 million. With an amount like that, the renovations definitely did not go in vain but what was once a simple big house transformed itself into one of the most luxurious mansions the world could see.

The custom-designed 62,000 sq. ft. mansion has an oceanfront view and is built on a total of 6.5 acres. The house has 17 bedrooms, 16 bathrooms and 8 half baths. The biggest specialty of this Palm Beach super luxury mansion is its incredible ocean view that stretches along 100 foot long pool. It also has a fitness room, library, home theater, staff quarters, two separate guesthouses, wine cellar, numerous fireplaces and specially designed living rooms.

Maison de L'Amitie proudly proclaims three additional structural mansions that include two bedroom guesthouse, a dual bedroom poolside retreat and a four bedroom coach house. In here, you can also find a huge tennis house, a luxurious cottage with 24 karat gold bathroom fixtures. The grandiose gardens, Venetian-style moldings, eight skylights, white marble columns and a sequence of famous paintings and other luxuries surely is the epitome of luxury. Trump personally saw to all the interior decorations done to the house and choose furniture and fixtures and the renovation took very little time than expected.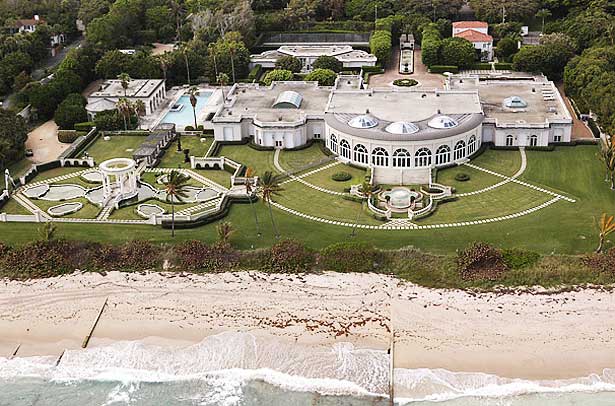 Maison de L'Amitie

Donald Trump has left no stones unturned when it comes to transforming this normal looking structure to our super luxurious mansion. His immaculate style and passion has surely been reflected in this wonderful structure, making the world see a sense of his style.