Madonna's Houses
One of the most famous stars of the 20th century, Madonna is celebrated around the world as a complete artist who showcased her multiple talents in music, acting and directing movies. Born on August 16, 1968, Madonna has influenced the world of music not only by her songs and powerful lyric messages, but also by her provocative attitude and outfits.
| | |
| --- | --- |
| | One of the most discussed aspect of her life are her multiple houses, which are actually located on both sides of the pond that is the Atlantic Ocean. |
Madonna has three children and her main residence is in London, United Kingdom.
One of Madonna's favorite homes, her apartment in New York City, was actually featured in the prestigious "Architectural Digest" in the 1990s and it has since changed it looks quite significantly. She bought it during her relationship with Sean Penn and the couple actually lived here for a time. Madonna's younger brother, Christopher Ciccone helped her design the apartment. Perhaps the most intriguing item in her apartment is the original Picasso hanging in her office.

Madonna actually declared for "Architectural Digest" that she loves looking at it when sending faxes. This is not the only piece of art in the apartment, as the hallway features quite a few series of nude distortions by André Kertész and vintage prints including Nude, 1929 by George Platt Lynes.Another thing that is worth noting about Madonna's Upper West Side Apartment is the kitchen, which looks pretty much like a place that is not used for cooking on a daily basis.

Madonna bought a three-bedroom and five-bathroom house in the upmarket area of Los Angeles in 2003 and reportedly she is trying to sell it in 2012. The house is a 5,800 square foot property, with 1.14 acres of land surrounding it. Completely redecorated by Madonna, the house features a large swimming pool and a tennis court.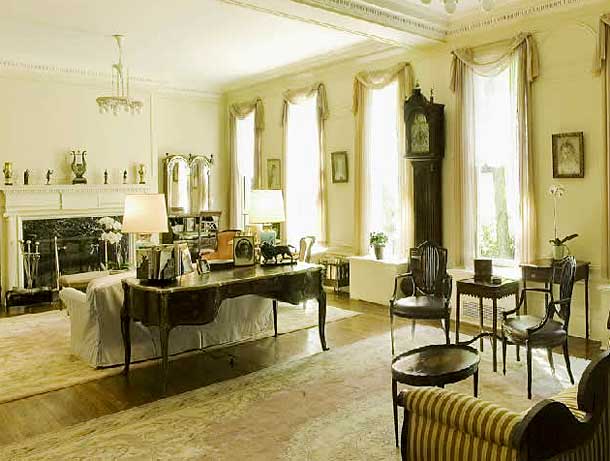 The property was bought during her marriage with Guy Ritchie and it cost approximately $12 million. Madonna lived in the house less and less after her divorce, preferring her London residence and reportedly she intends to sell this property because she wants to spend more time on the East Coast when in the U.S.

Finally, Madonna's more permanent current residence is a 10-bedroom Georgian townhouse in Marylebone, London. Actually, Madonna own several properties in the British capital, two in central London and two nearby her main residence, which are occupied by staff. The house in Marylebone has no less than six floors and includes many original features and oak floorboards.

When Madonna bought the house in 2007, it was in need of restoration, so extensive work was completed. The former owner of the mansion was designer-developer Paul Davies. The cost of the property was more than £6 million before the refurbishments. Over the years, Madonna's house was in the news because of attempted burglaries and a stalker who managed to enter the house in Madonna's absence.