John Travolta's Homes
John Travolta rocketed to stardom as Tony in the classic movie Saturday Night Fever. He started out as a "sweat-hog" on the TV series Welcome Back, Kotter in the 70's as a tough Brooklyn kid. Born and raised in Hoboken New Jersey in a working class neighborhood Travolta has seemingly avoided the pitfalls of celebrity by keeping his real estate purchases modest (comparatively speaking given his celebrity status).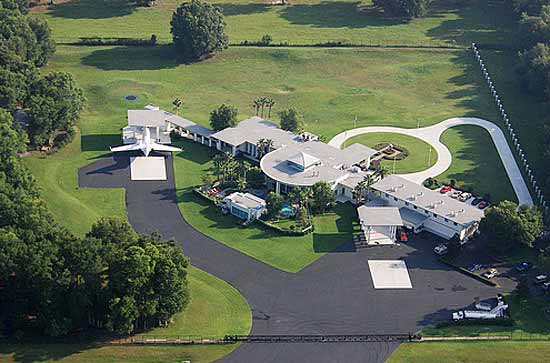 John Travolta's Ocala, Florida Home
Travolta's main home base is his Ocala Florida residence where he and his wife and their 2 children live a peaceful life.
Hoboken, New Jersey
Working as a sweat-hog, Mr. Travolta purchased his first home for the elaborate sum of $140,000. The modest home located in a working class neighborhood was home for him for 5 years until he turned it over to his sister and her family for safekeeping when his career took off. The home is still owned by the family and according to tax records it is now valued at $290,000.
New York, New York
After hitting it big in Saturday Night Fever John bought an apartment on the upper west side of Manhattan where he lived until 1984. He sold the apartment for $1.7 million dollars. The apartment was 3 bedrooms and over 2,000 square feet which must have felt like a palace to the young star who grew up in his family home of 2,000 square feet with 5 siblings.
The apartment included hardwood floors and a marble entranceway.
Ocala, Florida
Mr. Travolta procured his Ocala Florida property from Frank Sinatra for $3.5 million dollars and quickly got to work turning the estate into a home for both his family and his collection of planes including his personal Boeing. In Ocala, Jumbolair Estates is an exclusive aviation community which has roadways in front of the home and Taxiways in the back of every home.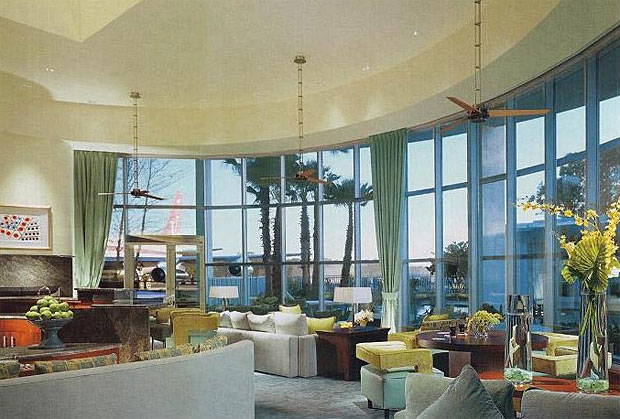 Interior of Ocala Home
Mr. Travolta built two hangars on his property that are directly connected to his home via a covered breezeway so he is able to walk from his house to his plane and literally take off.
The property is often photographed from the air because of its unique attributes.
Diamond Head Hawaii
This Oahu Hawaii home was actually owned by Mrs. Travolta (Kelly Preston). It is a modest home in a gated community on the beach in Diamond Head. It has 3 bedrooms and 3 full baths and is currently being used as a rental by the new owner. The marble flooring and the ocean view made this a lovely retreat for the couple.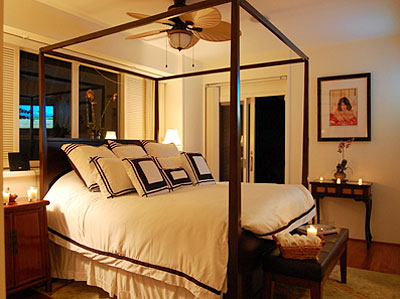 Travolta's Diamond Head Hawaii Bedroom
The property was sold in 2000 for $1.5 million.
Santa Barbara, California
The Travolta's, like any celebrity couple, are bicoastal with homes on both the East and the West coast of the US. The Santa Barbara home was purchased in 1997 for a little over $ 7 million which is actually quite the deal for this area.
The house is complete with tennis court (rumored to be Kelly's favorite sport) pool, library and 6 fireplaces. The compound is surrounded by a high fence with greenery used to cover the fencing. According to the Travolta's they do not spend a lot of time in California but when they do they love spending it at their West Coast home. There is a guest house on the property. Their famous neighbors include celebrities like Dr. Dre.
Coastal Maine, Islesboro
John and Kelly unlike other celebrities of their magnitude prefer quiet times and normal family activities. It has long been rumored that one of John's favorite places to eat is Denny's the restaurant chain that serves home style meals. With that in mind it is no surprise that the couple opted for a quiet retreat off the coast of Maine. Of course their quiet retreat is 12,000 square feet on the water with a built in pool and massive rooms.
Kirstie Alley a close buddy of the couple convinced them to buy the home in Maine as a family retreat. Kirstie has since sold her home but the Travolta's continue enjoying the holidays (this is where they spend Christmas every year) and other family gathering times up in Maine.
The home is tastefully decorated and is large enough for both their extended families to enjoy for the holiday which is exactly what they do each year. This 6 bedroom home is bordered on one side by a forest and the other by blueberry fields and is very secluded.
Some famous neighbors include Chris O'Donnell and J. P. Morgan.