Tiger Woods Home
Tiger Woods isn't the only person who loves to spend his time in the warmth of the Florida sun, but he's one of the few who can afford to do it in a $60 million house with a golf course (four holes) and a running track. He has tweeted about his excitement at the prospect of moving into the home, located in Jupiter, Florida.
| | |
| --- | --- |
| | The home was planned before he and his ex-wife split up, but it won't be a family home anymore. |
After the affairs he had while he was married, it will probably be a bachelor pad, at least for awhile. That's how Woods has redesigned it, and it is very much state-of-the-art.


Sitting above the Atlantic Ocean, Tiger's new home has huge windows that allow wonderful views of the sea. It even has a glass-panel elevator in case you don't feel like using the stairs. In addition, his master bedroom is enormous, even though he'll probably only be using the "his" en suite and not the one for "her". He has three more bedroom suites in the home. The detailed plans of his house by its architect also show a wine cellar and a possible play space for Charlie and Sam, the Woods' children.

You'll find four buildings adjoining the main mansion, and these include a large guesthouse, a detached garage, a studio for golf training and a boathouse. The boathouse will give a berth for "Privacy", Tiger's 155 foot yacht. The property also boasts a diving pool with a lap lane, a gym and a tennis court. It will be much different inside with just Tiger present or he and his kids entertaining themselves.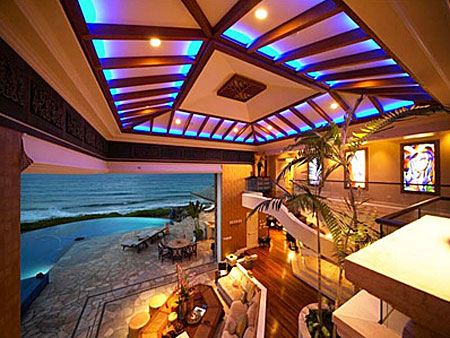 Woods wrote in his blog that be is especially excited to use his 3.5 acre golf course, located conveniently in his back yard. He designed the facility for short game practice, and watched carefully over its construction, to make sure it had everything he wanted included. It has six bunkers and four greens, along with differing types and depths of sand, a putting green and a video center. He can use a 7-iron if there isn't any wind, and he can even hit shots from his studio on the second floor.

Tiger's marriage of five years was shattered in late 2009, shortly after a very strange car crash near his home in Orlando on November 27 of that year. His then-wife, who was a former swimwear model, left him and then would file for divorce later. She has spoken out somewhat about the relationship that she and Woods shared for years. She admitted that she was embarrassed and blindsided when she realized that not only had Tiger been cheating, but with more than one woman.

Nordegren, the ex-Mrs. Woods said that she had never suspected anything, although she was home more with pregnancies and children in the last several years. Woods and his ex-wife did attempt to work through the problems their marriage had, but they agreed to split after getting back together proved too difficult and painful. So Tiger's den is a bittersweet home, as it carries dreams of the life they would have shared together.