Meg Ryan's House
Meg Ryan wanted a refuge from the world of a celebrity, where she could spend more private time with her children. She was born in Connecticut, so she loves the north Atlantic coast communities.
| | |
| --- | --- |
| She fell much in love with a Martha's Vineyard cedar-shingled house with seven acres. | Meg Ryan's House |
There is water all around, and that appealed to her. She can see the sun rise and set over the water, on either side of the house. The light appeals to her.
The actual house was not as attractive as the lovely, idyllic surroundings, at least not to Ryan. This post-and-beam house was built in England ten years earlier, then collapsed into a kit like puzzle pieces, and then brought to Martha's Vineyard by barge. Ryan did like the house's craftsmanship, but thought that it looked unfinished. She didn't prefer the exposed rafters or the cavernous areas. She felt that she needed to add skin to this skeleton of a house.
Ryan sought the help of an interior designer from Bedford, New York, to decorate the house. But Ryan provided the vision, even though she explains that her goal was actually counter-intuitive. She was adding to the house to make it simpler, which at some level doesn't make much sense. But she carved the area into separate rooms, and some cozy areas, including a playroom for her two children.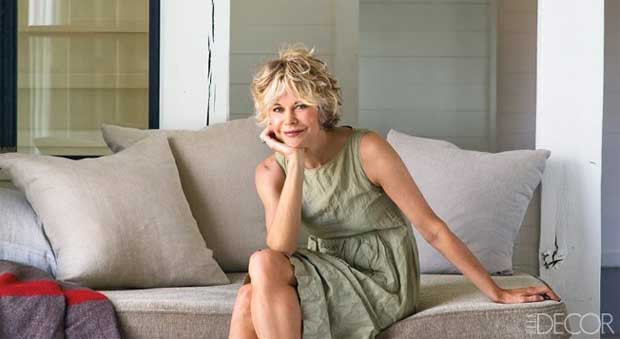 Ryan feels that she had the opposite reaction to this house than she has to most other houses, since she is usually fond of open floor plans. To make the separations, they used walls with transoms or windows, glass doors and casement windows so that she wouldn't lose the views.
When she moved into the house, Ryan felt it was rather dark, with various colors that were subdued and somber in the large area. So she used various shades of white and a mixture of vintage and industrial lighting to brighten it. The armchairs and sofas are covered with pale linen, and the furniture is made from hand-hewn wood.
Ryan does have a whimsical side, too. She has a metal sign that says "FLOWERS" over her dining table. She even put metal numbers on the doors of the bedrooms, like a hotel might, so that her more frequent guests could find their rooms more easily.
| | |
| --- | --- |
| | Ryan doesn't hold anything back when she is enthusiastic about something, and this home is no exception. |
She found some industrial parts at an antique dealer, and in her mind, she pictured them as lights with Edison bulbs for the master bathroom. The lights are hanging above the stylish soapstone sink in her master bedroom now.
Meg feels like she has spent her life renovating houses, and she's also done her share of lofts, apartments and a Montana log cabin. She gets her inspiration from design magazines and she was truly the visionary on the Martha's Vineyard project. Her decorator feels that although she likes having ideas bounced off her, that Ryan has a good eye and wonderful taste.